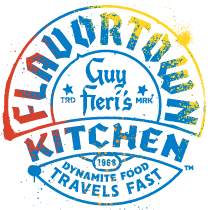 Flavortown Kitchen
---
Flavortown Kitchen
---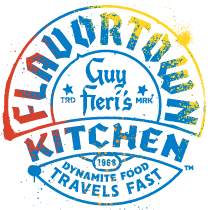 Real Deal signature recipes from the Mayor of Flavortown right to your front door!
Flavortown Kitchen is a delivery only restaurant featuring real-deal flavors from Chef Guy Fieri. From our signature Bourbon Brown Sugar BBQ Wings to our award winning Mac N Cheese Burger, all of Flavortown's favorites come straight to your door step.
With over 170 locations in 34 states, check out our website or your favorite delivery app to place an order tonight!
Guy Fieri's Flavortown Kitchen located in:
ALABAMA
ARIZONA
CALIFORNIA
COLORADO
CONNECTICUT
DELAWARE
D.C.
FLORIDA
GEORGIA
HAWAII
ILLINOIS
INDIANA
KANSAS
KENTUCKY
MARYLAND
MASSACHUSETTS
MICHIGAN
MINNESOTA
MISSOURI
NEVADA
NEW HAMPSHIRE
NEW JERSEY
NEW MEXICO
NEW YORK
NORTH CAROLINA
OHIO
PENNSYLVANIA
RHODE ISLAND
TENNESSEE
TEXAS
UTAH
VIRGINIA
WASHINGTON
WISCONSIN
More Restaurants